The Region will be sending a team of 24 swimmers, 1 Head Coach, 2 Assistant Coaches and 2 Team Managers to the '10eme Meeting des Hortillions' swimming competition in Amiens France.
This is a 3-day competition with morning heats and evening finals.
The team will leave on Thursday 17th January 2019 and return on Monday 21st January 2019
Congratulations to the following swimmers who have been selected to represent the team Swim England West Midlands in Amiens 2019
Keira Hancock (Juniors)
Lily Massey (Juniors)
Millie Checkley (Seniors)
Jacob Davies (Seniors)
Aimee Hood (Seniors)
Aidan Mitchell (Seniors)
Instagram Click Here
Twitter Click Here
Erin Davies is swimming for the Welsh Performance Squad at the Luxembourg Euro Meet. Erin has already attended the development camps with swim wales and this will be her 1st overseas racing opportunity with this programme. Congratulations!
Watch the 2019 Teaser CLICK HERE
Flyer for the Open meet CLICK HERE
Luxembourg Euro Meet 2019 Website CLICK HERE
City of Birmingham has good representation with the Swim England Development programme again as the following swimmers have been invited onto the Swim England Phase 2 camps. Well done to all.
Jacob Davies
Alex Hindle
Charlotte Rigg
Alisha Stephenson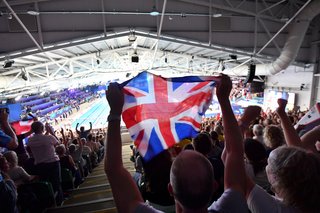 British Swimming has published the schedule, conditions and qualifying times for the British Swimming Championships 2019. The competition runs from 16-21st April at Tollcross International Swimming
Championship Schedule CLICK HERE
For more information CLICK HERE
The Sport and Venue Programme for the Birmingham 2022 Commonwealth Games was confirmed and celebrated today, Friday 19 October, as five Team England medallists joined Birmingham 2022 Chairman John Crabtree and pupils from Mapledene Primary School for a sporting showcase at Birmingham's National Exhibition Centre – one of the key venue clusters for the Games, which take place from 27 July to 7 August 2022.
17 thrilling sports will take place over 11 days of action-packed competition, at venues across the host city and throughout the West Midlands and beyond.
Over one million tickets will be available – and go on sale closer to the event. All of the venues are already open – with the exception of the new Aquatics Centre planned to be built in Sandwell – and well-established and experienced hosts of world-class sport.
This was a key benefit of the original bid, supporting the Games Partners and Commonwealth Sports Movement's ambitions to increase the efficiency and affordability of hosting the Games.
For more information CLICK HERE
The confirmed sport programme of 17 sports for Birmingham 2022 are:
Aquatics (Swimming, Para and Diving)
Athletics and Para-Athletics
Badminton
Basketball 3×3 and Wheelchair Basketball 3×3
Boxing
Cycling (Mountain, Road, Track and Para-Track)
Gymnastics (Artistic and Rhythmic)
Hockey
Judo
Lawn Bowls (and Para)
Netball
Rugby Sevens
Squash
Table Tennis
Triathlon (and Para)
Weightlifting (and Para Powerlifting)
Wrestling.
The confirmed venues for Birmingham 2022 are:
Alexander Stadium (Athletics and Ceremonies)
Arena Birmingham (Gymnastics)

NEC

Arena (Badminton)
National Exhibition Centre (Boxing, Judo, Table Tennis, Weightlifting and Wrestling)
University of Birmingham (Hockey and Squash)
Villa Park (Rugby Sevens)
Sandwell Aquatics Centre (Aquatics)
Sutton Park (Triathlon)
Cannock Chase (Mountain Biking)
Coventry Arena (Netball)
Royal Leamington Spa Bowling Centre (Lawn Bowls)
Lee Valley VeloPark, London (Track Cycling).
In line with previous Games, the Cycling Road Race and Marathon routes will be confirmed closer to the Games; and ongoing venue-planning and technical assessments may necessitate event host arrangements being subject to change